The steps involved in the Android apps development process are as follows:
We understand you: In the first phase, we try to understand your business and try to derive how an Android app adds value to your business. In this phase, we will understand your target audience, goal & significance of your Android mobile app solution with respect to the problem
Your app will be designed for better ROI: We listen to you, we analyze your problem & we will bring up the simple solution for a complex problem statement. In this stage we consider both user perspective and the company perspective to come up with an optimal solution. We undergo many exercises to provide the best Android apps solution.
We develop your Android app with a team of experienced & passionate Android application developers: We follow Agile methodology to develop your Android app efficiently. In this phase, the application will be tested repeatedly and reworked on it until your Android app becomes a full-fledged & robust Android mobile apps. A dedicated account manager will update you on the progress, current happenings, anything & everything.
Deploying: Once an Android app is ready to use by users, it should be deployed in an app store.
Maintaining: The app which is live on the app store is not meant to be last forever. Android keeps on releasing a new version of OS in order to add new features and make it more sophisticated. We always follow the trend to keep us and our work updated, so never think of your app won't work if the latest version of Android OS is launched.
Advanced Technologies to Develop User Friendly iOS Apps:
• Objective C
• iPhone SDK
• PhoneGap
• Sencha
• Titanium

We develop applications on various platforms but we consider Apple's iOS platform is one of the best platforms to develop the application for business because of excellent performance and unique qualities.
Unique Benefits of Our iOS App Development:
• High Quality
• Eye-catching UI
• User-friendly UX
• Feature-rich
• Top Performance
https://schweiz-libido.com/brasil-libido.com

App development is the door for any organization to enter into the modern era. App developers have certainly become the heroes of this era. Camerdigitals has a great experience in app development for over 7+ years, as one of top app development companies.Our app developers are proven experts in Enterprise app development.Smartphone application development is an art where the idea becomes reality. Our app developers build apps that build a business. Mobile development has unlocked a door to a new face of business.90% of customers of any business use smartphones and all smartphones run with apps, and our app developers are kings of this jungle of app development.
Android is one of the most popular operating systems for smartphones.There is a wide range of customers dealing with android phones that is a reason to have an android app.These mobile applications make life more comfortable for your customers.Technically Android opens up a lot of features for its app development.For eg, the camera of any android phone can be used as scanners and lot more. We technically do a ground research on your requirements and Our hardcore coders do app development more than expected, our app development has surprised all the clients over their Android app.To know more about our expertise in android app development, get in touch with our experts.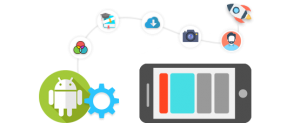 IOS Mobile App development .    
Camerdigitals is a well-known iOS app development company, It's generally considered that iOS app development is complicated but we consider it as fun.iPhone app development provides a lot new and dynamically evolving features that can be implemented in the iOS app. Our iOS app developers are skilled and have embedded their skill into iOS app development. Our iOS App development team have developed applications for iPhone, iPod and iPad.

The features of IOS in Mobile Application includes :
 Game Center : Is the Apple's new Game Center social gaming service.

 Folders : Came with the introduction of a simple folder system.

 Camera & Photos : Also makes some enhancements to the iPhone Camera and Photos apps, providing support for High Dynamic Range photos, HD video uploads and improved camera controls on the iPhone 4 and 4G iPod touch.

Bluetooth AVRCP Support : Provide full AVRCP support for Bluetooth accessories, allowing for not only play/pause control but also track navigation